---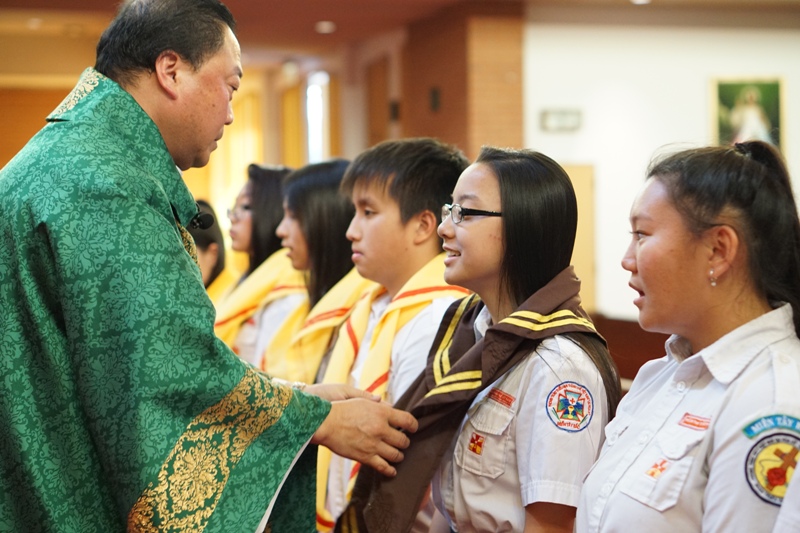 Sa Mạc Huấn Luyện - Tông Đồ Đội Trưởng và Đội Phó 2016
Every year that I have been in training and attended "Đội Trưởng - Đội Phó" camp, it has provided a new and exciting experience each time. This year, I reminded myself that I had to make the best of what was happening because it was already my second-to-last year of "Đội Trưởng - Đội Phó"! Without a doubt, this year has been one of the most impactful and memorable occasions. Although there were both high and low points throughout my overall journey, I had left Cana VI feeling truly accomplished, insightful, and part of a bigger family.
As I entered this camp, I knew it was going to be worth the challenges I faced earlier in the week. I had undergone multiple levels of stress because of school and was overwhelmed with the things that needed to be done. Little did my team/ "làng" know at the time, the Skype calls and group messages meant a lot to me and relieved some of that stress. We even did some of our pre-camp assignments together! I was able to relate to many of the reflection prompts from our spiritual journey as they opened my mind to new perspectives. I came to camp full of excitement and willingness to learn with other "sa mạc sinh" (SMS) from all over our region. My heart and mind were opened from our beginning Mass and my soul was overjoyed by our first "chào cờ" seeing how many people were there. Being a part of such a welcoming team/ "làng", I felt like I had already known them forever. I was more than ready to conquer what the rest of the weekend had to offer with such an amazing group of people.
I think this camp was really different for me because it was my first year in "Hiệp Sĩ". I discovered how different responsibilities became and how you are looked upon. One of our workshops about self-mastering really helped me find part of myself, though. It made me realize what passion truly was and why I was there in the first place: to become a leader. Something that really hit me was that it was not about me. It is not what I am doing to better only myself, but it is to serve others as well. Being selfless was definitely one of the biggest qualities of a leader that I took away from this camp. However, I saw many other qualities in the people that I worked with and I am glad to have built many relationships with people that I saw were leaders to me. Throughout camp, I had so much fun! Whether if it was from mini games or to the journey of faith, there was never a dull moment with everyone surrounding me. I felt like I was always in a cheerful and supportive atmosphere. Cana VI also impacted me greatly in the spiritual aspect. Every time we gathered in the auditorium to pray, I truly felt connected with my peers and to God. It was nice that we began our days and ended our nights through both group and personal offerings. Additionally, our offerings to Mary had touched me and provided the feeling of serenity.
Some struggles that I faced were being able to step out of my comfort zone and opening up quickly. I think it was just a little more difficult due to no specific time for our team/ "làng" to bond, but I can admit that this is the first time I have ever felt this comfortable with a group of people I've never met or spoken to before. I really liked the fact that we worked through this camp with our "làng" because I think that bond was great enough to bring out our inner selves and interact with each other freely. Other difficulties that I faced were technical issues. Some things I learned back at home weren't the things we learned or performed at camp, so we had to adjust. A lot of the time, I felt very "lectured," but I knew it was for a good reason. Overall, these challenges were overcome by the help of my teammates and our high spirits throughout this "Sa Mạc".
In a definite manner, Cana VI has left a huge impression in my "TNTT" life, a memorable one at that. One of the best parts is that my "làng" still continues to keep up with each other and support one another. (Go Bêlêm!) As I am progressing as a "TNTT" student and entering a new "ngành", this camp has given me the opportunity to discover the leader I am growing to be and what examples I can leave for other people. I think the passion I have to help others has certainly ignited after learning what passion means and how different it is for each individual. Undoubtedly, this journey has not been perfect, but with the help and support of my peers and many "huynh trưởng", it has become an insightful experience. Taking all of what I have learned from this camp, I hope to bring it home to my "đoàn" and inspire others to become leaders as well.
Julie Dinh
June 4, 2016